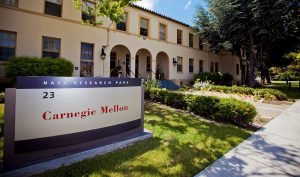 Carnegie Mellon University, Silicon Valley was my current academic abode while pursuing a Master's degree in Software Engineering. I was a 'Spring 2018' admit and graduated in May 2019. Here's a review of my experience at CMU.
My Role at CMU:
Fun Squad

Student Activities Leader since Jan 2018

Participated in organizing and executing events like the Lunar New Year Party, Spring Carnival, Holi, Star Wars, Halloween, Diwali, Vegas Party, Alice in Wonderland party.

Career Services

Student Representative at CMU SV Converge (Career Fair) in Spring 2018, assisted participating employers and students.

Represented CMU at our university's booth at Microsoft TEALS 12 CS Fair at San Francisco Convention center Feb 2018.
Participated as a panelist in a discussion on 'My Experience at CMU Converge'

ECE Events

Student Volunteer for ECE Alumni Reunion

As an ECE Student Ambassador, conducted campus tours for domestic students incoming in Fall 2018
As an ECE Student Ambassador, conducted campus tours for students incoming in Spring 2019.

Hackathons:

P

articipant and runner-up prize winner in the IBM hackathon for tackling gender bias organized on campus.

Participant and runner-up prize winner in the BitClave Blockchain Hackathon organized on campus.
Research

Graduate Research Assistant for the Traffic Dot Project working under Professor Bob Iannucci during the Spring 2018 semester.

Teaching Assistantship

Graduate Teaching Assistant for the Foundations of Software Engineering (18652) at CMU Silicon Valley for the Spring 2018 semester

Course Developer for Cloud Computing (15619) working remotely under the Carnegie Mellon School for Computer Science, Pittsburgh during the winter break of Dec 2018 – Jan 2019 under the guidance of Professor Majd Sakr.

Graduate Teaching Assistant for Cloud Computing (15619) for the Spring 2019 semester
My experience as a student employee:
Being a member of the Fun Squad, I get a chance to interact with almost every student on campus. Most students share a bond with me and interact with me on a first-name basis. I do not need to have a peer group on campus, I can hang out with absolutely anybody.
Being an ECE student ambassador, I get to step out of my comfort zone and welcome students I've never met before on campus. Its helped me develop myself as a natural leader who leads by example.
Being a student worker helps me polish my behavioral traits by making me conscious of how my actions, words, and expressions influence others.
Working as a researcher on campus did not only boost my technical skill-set but also help me get a chance to improve how I collaborate with peers who are either more, equally or lesser skilled at me in a particular domain. This goes a great way in preparing me for my career.
Acquiring knowledge is only half as important as passing it on. Being a student worker, I get a chance to analyze the depth of my understanding of a topic while relaying it to other students.
Working with the Fun Squad, especially, gives me time to relax and bring myself out of technology and replenish my creativity and fun factor. It keeps me attached to reality and gives me a sense of what impact I can make on people. It is an important part of my experience at CMU and I treat it to be almost as important as any other course.
Holding these positions of responsibility make me aware of the institution not just being brick and mortar but a large family on its own. Working closely with the amazing staff and faculty holds me in the spirit of a CMU Tartan and has made CMU SV an important part of who I am today.